Radio module based ST S2LP and PA.
N563AS S2LP module designed for 433M, 868M, 915MHz band. Up to 24DBM output power.
N563AS based s2lp, PA and LNA. 169M, 433M, 868M and 915MHz used. Up to 24dBm output power and down to -126dBm sensitivity. S2LP module leads all pins out for secondary development.

S2LP introduce
The S2-LP is a high performance ultra-low power RF transceiver, intended for RF wireless applications in the sub-1 GHz band. It is designed to operate in both the license-free ISM and SRD frequency bands at 433, 512, 868 and 920 MHz, but can also be programmed to operate at other additional frequencies in the 413-479 MHz, 452-527 MHz, 826-958 MHz, 904-1055 MHz bands. The S2-LP supports different modulation schemes: 2(G)FSK, 4(G)FSK, OOK and ASK. The air data rate is programmable from 0.1 to 500 kbps.
The S2-LP can be used in systems with channel spacing down to 1 kHz enabling the narrow band operations.


N560AS shows an RF link budget higher than 140 dB for long communication ranges and meets the regulatory requirements applicable in territories worldwide, including Europe, Japan, China and the USA.
S2LP

features
Frequency bands:

Modulation schemes:

Air data rate from 0.1 to 500 kbps

Ultra-low power consumption:

7 mA RX

10 mA TX @ +10 dBm

Excellent performance of receiver sensitivity: down to -130 dBm

Excellent receiver selectivity and blocking

Programmable RF output power up to +16 dBm

Programmable RX digital filter

Programmable channel spacing

Fast start-up and frequency synthesizer settling time

Automatic frequency offset compensation, AGC and symbol timing recovery

More than 145 dB RF link budget

Battery indicator and low battery detector

RX and TX 128 bytes FIFO buffers

4-wire SPI interface

Automatic packet acknowledgment and retransmission
Embedded timeout protocol engine

Excellent receiver selectivity (> 80 dB @ 2 MHz)

ST companion integrated balun/filter chips are available

Antenna diversity algorithm

Fully integrated ultra-low power RC oscillator

Wake-up driven by internal timer or external event

Digital real time RSSI

Flexible packet length with dynamic payload length

Programmable preamble and SYNC word quality filtering and detection

Embedded CSMA/CA engine based on listen-before-talk systems

IEEE 802.15.4g hardware packet support with whitening, FEC, CRC and dual SYNC word detection

Wireless M-BUS supported

Enables operations in the SIGFOX™ and MONARCH networks

Suitable to build systems targeting:

Europe: ETSI EN 300 220, category 1.5 natively compliant, ETSI EN 303 131

US: FCC part 15 and part 90

Japan: ARIB STD T67, T108

China: SRRC

Operating temperature range: -40 °C to +105 °C



ISM Frequency supported by 560AS module

433M band: 433 MHz to 435 MHz (China, EU)
470M band: 470 MHz to 510 MHz (China)
868M band: 868 MHz to 870 MHz (China, EU, USA)
888 MHz to 889 MHz (Australia)
915M band: 902 MHz to 928 MHz (USA)
N563AS is suitable for free frequency band in EU.
RF Interface

Parameter

Introduce

Frequency

433M, 868M, 915MHz

Support

ISM

Output Power

+24

d

B

m

The maximum power 200

mW

S

ensitivity

-

126d

B

m

1.2kbps

Symbol

R

ate

0.3-200kbps

Software programming control

Devi

a

tion

+

/

-1k

H

z

Antenna interface

D

istance

12000

m

In clear and open environment, the antenna gain

is 3 dBi, the height above the ground is 2.5 meters,

and the air speed is 1.2 kbps.
Hardware parameters

V

alue

Remarks

Size

31 x 24 x 3mm

-

Antenna Interface

IPEX

,

RF pin

-

Communication Interface

SPI

Software programming

Package

S

MD

-
Electrical Parameters

Minimum

Typical

Maximum

Remarks

V

olt

1.8V

3.3V

3.9V




PA V

olt

2.5V

5V

6V




Emission Current




400mA




Instantaneous power consumption

Receiving Current




27mA




-

Sleep

current




1uA




Software programming control

W

orking

T

emperature

-40℃




85℃

-
Pin Definition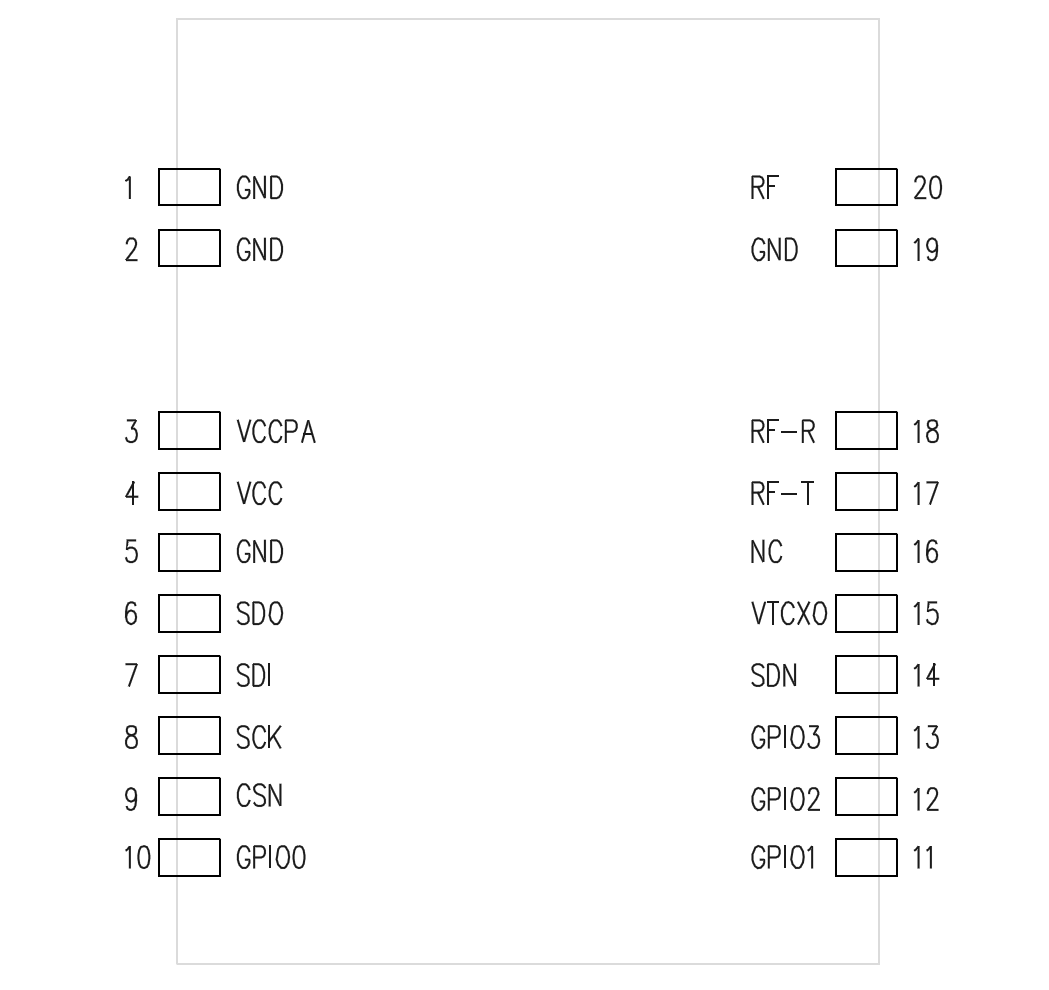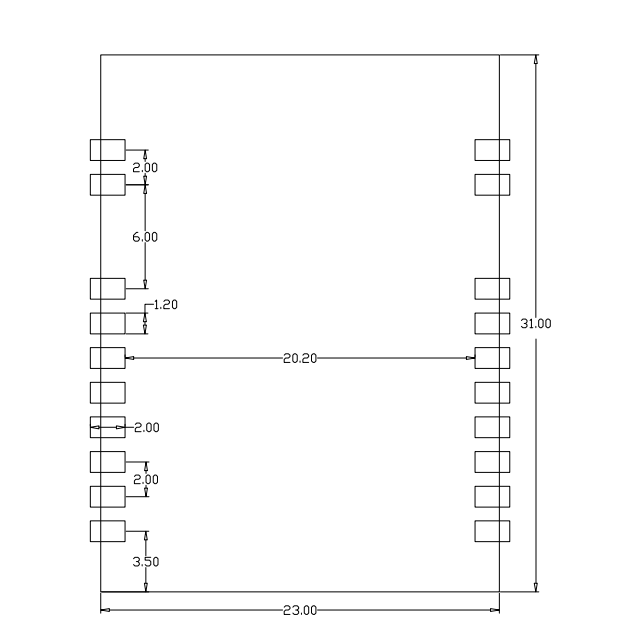 Ordering information
N563AS-433M S2LP Narrowband, 24dBm, 410M - 480MHz
N563AS-868M S2LP Narrowband, 24dBm, 860M - 880MHz
N563AS-915M S2LP Narrowband, 24dBm, 910M - 960MHz